Johannesburg
September 10th - October 5th, 1999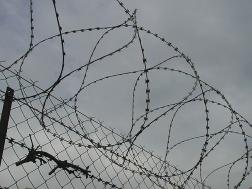 Filled with apprehension at landing at one of the three statistically most dangerous cities in the world, we arrived at Johannesburg Airport and made it through customs uneventfully. We were somewhat surprised to be given a three and a half month long visa, and even more surprised that we could have gotten it for longer. Seems that South Africa after its long isolation during apartheid now welcomes the world with open arms. We arrange for a ride to Rocky Street Backpackers, a traveler's hostel in Yeoville that's about as close to the city center as one can get and still be reasonably safe in the evening. We find out upon getting our room that we've arrived in the coldest week in Johannesburg's history and that Rocky Street doesn't heat their rooms -- with us still used to the 45° C temperatures of Morocco. Ah, the joys of economy travel!
Yeoville offered us an interesting perspective on what's has been and still is happening to Johannesburg's (Jo-burg, as the locals call it) center. They used to call it "White Flight" in the 1940's and '50s in America. Almost all the monied folk have pulled out of Jo-burg's core and moved to the suburbs. Our travel books on South Africa are only a year old and already about a quarter of the businesses listed in the Yeoville neighborhood have pulled out. It was striking the number of homes for sale, even though (we hear) the sellers take a real bath doing so. People are truly scared of Jo-burg's downtown.
Before the flight began, Jo-burg was already a motor culture, but with everyone moving to the 'burbs it's become impossible to get around without a car. You grow old waiting for the buses, and grow poor using the taxis here. Our first week in Jo-burg was hell without a car. This weighed heavily on our touring plans and resulted in us purchasing a vehicle, described in a later section. With a set of wheels, Jo-burg opened up to us and we were able to tour around and experience the city.
And you know what? Nothing bad at all happened to us. We even tromped around neighborhoods that scare the bejesus out of the locals. We kept looking around at these supposedly bad neighborhoods and thought "compared to Morocco, this doesn't look so bad." Now, we don't dress real fancy or wear tons of gold and diamonds (which made this country what it is) like most of the well-off locals do, and we aren't driving a prime car-jacking target, so that may explain part of it. Years of San Francisco living have taught us how to walk and behave in marginal neighborhoods. Also, Africa is toughening us up, so anyone who might care to mess with us has to at least think twice about it.
Don't misunderstand us -- crime is bad here. But Jo-burg isn't the worst city on the continent (we hear Lagos, Nigeria wins that contest). It's just that South Africans have that "European" notion of personal safety. Used to be that an affluent person could march around here like they were in Paris, Amsterdam or Berlin with nary a scratch. Not any more. As Americans, while we welcome safe cities, we're used to a lot more dangerous environs, and Jo-burg just didn't strike us as bad as so many parts of big cities in the USA. We truly enjoyed our time in Jo-burg.
Soweto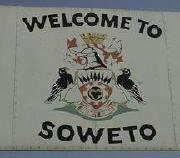 While we started up our vehicle search in earnest, we decided to take a tour of the city in South Africa that really raised our awareness of this country: Soweto. While "Soweto" sounds like an African name, it's actually an English acronym for Southwestern Township. Formed at the end of the nineteenth century, Soweto (like all the townships) was located on the southern outskirts of the newly formed city of Johannesburg in order to locate blacks and coloreds away from the white center and northern suburbs. Originally meant to house a hundred thousand or so miners, Soweto has grown to house a sprawling population of over four and a half million people.
Before our visit, our minds' eye envisioned Soweto to be a place of vast and teeming squalor. Our tour started in one of the worst areas of town, Mandela Village, where we found a squatter's camp teaming with corrugated tin sheds and dirt paths (below left). While substandard to the western eye, each house was separated from its neighbors and appeared neat and tidy, and a battalion of porta-poties were distributed throughout the camp. While we were able to enter and/or peer into only a few homes, while cramped each of the homes we saw had heat of some sort (usually a paraffin stove). In short, the worst part of Soweto was far better than the road- and rail-side squalor we saw in Morocco and passes as basic housing in most of Africa. We were surprised.
Apparently, only a few years ago it was much dirtier. Seems that Soweto charges for basic trash pickup, and it's an expense that most poor South Africans opt to forego. Until the city began to hand out garbage bags for free, most poor people simply threw their trash into the road or at corner dumps. Many immigrants who aren't quite into the swing of life here still do that, but on the whole we found Soweto a very clean city.
| | |
| --- | --- |
| | |
Even more surprising to us were the numerous mansions peppered throughout town. Apparently, they've always been here, but with the advent of independence many more have been built. Winnie Mandela had the largest one we saw, surrounded with double rows of razor wire and (rumor has it) one mean dog on the inside. Desmond Tutu's Soweto mansion is in the above right photo. He rarely spends any time here, as the touring Truth and Reconciliation commission spends most of its time in other cities. Our tour guide says he has several mansions around the country, and is the only man of God he knows of who surrounds his home with an electric fence.

The most shocking living conditions we saw were the hostels. Built to hold migrant miners, they are basically row houses with six men to each tiny room. Originally managed by the mines, they've been turned over to the city who's once charged each man 10 rand (about $2 US) a month to stay. Since independence the city has lost control of the hostels and now doesn't bother to collect rent. Near the entrance to Soweto sits this small hostel (photo above) that holds approximately 50,000 people. The nine hostels in Soweto house a total of over a million people.
| | |
| --- | --- |
| | |
The house that Nelson and Winnie Mandela bought when he was a budding young lawyer has been converted into a Mandela museum -- over Winnie Mandela's wishes. Though small, it documents facets of Mandela's struggles during the apartheid years. The photo at above left shows Mandela's bed covered with the Jackal hide coat he wore into court when first charged with sedition, and the photo above right shows a couple of scars left by bullets the police used to randomly shoot at the house. In those days when Winnie was in the house alone, the police would either shoot over the walls, or even send officers in to poison the dogs or bodily threaten the people living in the house. That is, until Winnie got a boerbul -- a dog that's part rotweiler, part doberman, part bloodhound, and weighs nearly as much as a adult. They were bred by the Afrikaners to be used as defense dogs, and are very sneaky; they never announce their presence by barking but lay in wait and attack without warning. The police attacks dramatically decreased in frequency when Winnie's boerbul ripped open the throat of one evening's intruder.
| | |
| --- | --- |
| | |
We ended our tour with a visit to the Hector Peterson memorial commemorating the massacre of six young school children on June 18, 1976 by South African defense forces. They were protesting the South Africa's new requirement that all education in public schools, previously taught in English, be conducted in Afrikaans. Afrikaans is viewed to this day as the language of the oppressor, and it was the spark that ignited the powderkeg of black discontent. A thousand people died that summer in Soweto. The blood spilled that summer and the subsequent international media coverage laid bare the ruthlessness of the apartheid government and spurred the world to boycott South Africa. You may remember the photograph of a dying Hector being carried off to the hospital as his older sister wailed (above right).
Downtown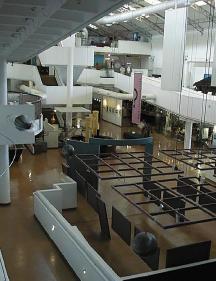 We had spent almost two weeks in Jo-burg without visiting the downtown, but we could no longer avoid it. When we bought our Land Rover, we needed to list an address on the change of ownership form, and we used the back door entrance of where we were staying, the Backpacker's Ritz, with the idea that we could then process the remaining paperwork in a suburban motor vehicle bureau. Fat chance. After visiting the Randburg bureau three days in a row (their computers were down the first two days!), we were finally told that sorry, but the address we used is still in the Jo-burg jurisdiction and that we must go downtown. Pain, as the Jo-burg office, besides it being in the dangerous and evil downtown, is notorious for the most brutal of queues.
So, we gritted our teeth, and on a Thursday morning drove downtown and braved the motor vehicle bureau. Yes, the queues were brutal and the registration process mysteriously obtuse, but after three hours we were done. With the whole day bracketted out for downtown, we decided to check out a couple of museums and grab something to eat. Our first museum was the African museum (pictured at left) which we had to ourselves. We even were able to park right in front of the museum entrance, and despite it's location in a marginal neighborhood and having no parking attendant watch our truck, no one touched it.

Among the exhibits present on that day were (counterclockwise, from top left) Ghandi's Johannesburg depicting Johannesburg in the early 20th century when Gandhi was a budding young lawyer and describing some of the trials that drove Gandhi onto the path of passive resistance against tyranny; Sophiatown, a vibrant black community within Jo-burg that gave birth to many notable African jazz musicians and poets until it was razed by the apartheid government in the late 1950's -- here we have Barney Rachabane; finally, the exhibit on apartheid which contained a copy of the first multiracial ballot used in 1994.
Always on the prowl for good Indian food, we checked out one that was the favorite of a young Jo-burg lawyer by the name of Nelson Mandela: Kapitan's Oriental Restaurant. This place has to be seen to be believed, and the owner is even more of a trip. Mr. K. allowed us in and served us a late lunch even though the restaurant seats by reservation only, and then spent nearly half an hour talking with us about how he serves as the personal cook for the Saudi Kings on their yacht several times a year and all the famous Americans he's buddy-buddy with (including Al Gore, who stops here everytime he's in Jo-burg). All-in-all quite entertaining!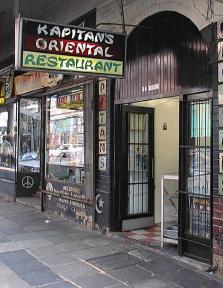 Finally, we topped off our afternoon with a brewery tour. Usually a nice experience, the South African Breweries turned out to be quite the exception. The once working brewery now lies as a burned out hulk with homeless squatters taking refuge within (bottom right) and the brewery tours held in a sanitary high tech beer amusement park. It's all quite choreographed, and self paced individuals as our ourselves just didn't fit in. We were surprised at the size of the SAB corporation, with over forty brands of beer from all around the world; we heard they even bought Pilsner Urquell during our stay in Jo-burg. Sad to say, but it's the first brewery tour we feel you can skip.
| | |
| --- | --- |
| | |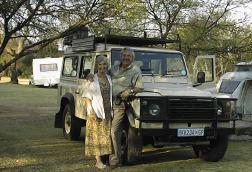 We thought about striking out at southern Africa on foot, and decided it against it. South Africa itself is a total USA-style motor culture, and there's an awful lot about Africa that its meager mass transit doesn't reach (and very little it can reach in comfort). Our experience in Morocco left us feeling that life would have been more positive with personal mobility. So we bit the bullet and set out to look for a vehicle. Africa being the "unpolished gem" that it is, we looked purely at 4WD. We considered only two vehicle makes: Land Rovers and Toyota Land Cruisers. Both have very good reputations in the rough stuff, and both are easy to get parts for all around the continent. We ended up buying the second truck we saw, a 1992 Land Rover Defender 110 from Alan and Marj (to right).
We hadn't expected to buy a truck so new, but one look at the prices of 4WD's in South Africa and we decided that if we're going to blow the budget we might as well go for it. Seems that the last year has seen an increase of 40% in the price of 4WD trucks. Just our luck. Our Land Rover, built in Cape Town towards the end of apartheid, has only 106000 kilometers (a little over 63,000 miles) and is a newer design with full time 4WD, power steering and coil springs, all handy for off-roading. We felt like we were getting a deal, but Alan seemed awful happy that he was selling it to someone who knew how to work on trucks.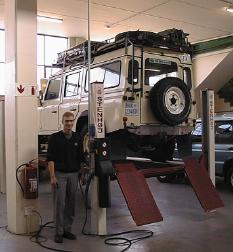 Alan was the second owner, and neither he nor our truck's original owners had spared this poor Land Rover much. This truck had, despite its tender mileage, had been driven all over the rump of Africa. It only took a few times parking for us to give our truck a name: "Spot", for all the little spots that it leaves from its various leaking systems. Alan told us a joke after he had our money in his hands: "If your Land Rover's roof isn't leaking, then you know it's not raining, and if your transmission isn't leaking oil, then you know its empty."
Neither of us had owned a Land Rover before, and the weeks we spent driving it around Jo-burg were weeks of discovery. Land Rovers make a lot of noise while driving, and it was a challenge to figure out which ones were ominous and which ones weren't. An experience which went a long way to waylaying our anxieties was a scheduled visit with a mechanic at a nearby Land Rover dealer. Brian (at left) spent two hours with Jim going over Spot talking about the nuances of working on a Land Rover, what was causing the various leaks, and assuring us that, yes indeed, most of the noises Spot was making were normal. The Waterford Land Rover dealer was even nice enough not to charge us for the visit, as it was our first Land Rover. Brian and the Waterford dealership gave us thoroughly exceptional treatment, unheard of in our experience with used vehicles. Many thanks!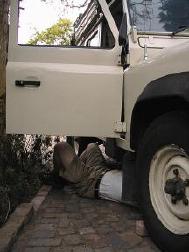 Of course, now Jim has his work set out for him. Much of our second week in Jo-burg had been spent in Auto Spares stores (South African for Auto Parts) stocking up on tools, gaskets and goops, and now it was time to put 'em all in. It took a death march of five days, but at the end of the ordeal we were now confident that Spot was solid enough not to let us down on the road. Working on a Land Rover for the first time was an interesting experience, especially under the bush conditions available at the various backpacker hotels we were staying in. Tolerances and clearances are a lot looser than typical American and Japanese cars, and even major work can happen easily. One could literally take apart and reassemble a Land Rover with a pair of pliers, two screwdrivers and a big hammer, and from the number of mangled and rounded nuts and bolts underneath Spot, the "inexpensive" mechanics Alan hired had been doing exactly that.
While all this was going on, we also outfitted Spot for safari camping. This basically means that one is totally self sufficient, and that your outfit is "hardened" against critters like baboons, hippos and elephants who wander through your campsite. Spot had seen this kind of action before, and was most of the way there; our major additions were a roof-top tent (visible towards the front in the photo with Brian) and a refrigerator that runs on 220V AC, 12V DC and propane. Nothing tastes better than a cold beer in the middle of the desert!
If you would like to hear gearhead details about Spot, check out this web page dedicated to the nuts and bolts of four wheeling across Africa with a Land Rover.

Jan Smut's House
One of our first shake down runs with Spot was a jaunt up to the south of Pretoria to visit Jan Smut's house. Jan Smut was one of the moderates in the Afrikaner government, was a war hero from the Boer War and served two stints as Prime Minister. His South African home gives one a snapshot of frontier life on the woolly edge in this part of the world. Counterclockwise from top: Jan Smuts (center facing left) with his guerilla group as they fought against the British; an elaborate elephant tusk gong; and Jan Smut's family grave overlooking his land and at the end of a nice hike.
It is interesting to note that the museum in Jan Smut's house suffers from a bit of historical amnesia. Absent from the displays presented here are mentions of how Smut led the British against the Germans in South-West Africa (now Namibia) during World War I. This is a bit of a sore point for today's Afrikaners, as the Germans supported and aided the Boers in their fight for independence against England -- a war in which Smut was a Boer general. Many South Africans fought on the side of Germany during WWI, but this isn't too surprising as the same happened in America. Many of German heritage returned to Europe to fight for the land of their birth.
Backpacker's Ritz and "the Heist"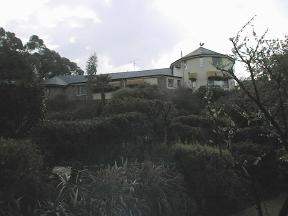 One of the four backpacker hotels we stayed in was the Backpacker's Ritz. Housed in a former baron's house on the edge of Randburg, it offers a quality stay at affordable prices. And it comes with a bit of history too. Post independence, formerly crime-free South Africa was engulfed in a tidal wave of crime. Rebellion against the apartheid system blossomed all over, including against the formerly oppressive police and the system of white laws they worked within. Gun-ridden South Africa saw the most audacious acts of vandalism against the highly visible rich. The Backpacker's Ritz fell prey to one such act. Just after it opened in 1994 during the middle of the night four black men entered the building, all armed with AK-47s, woke the staff up, cleaned out the safe of all receipts and stashed traveler's goods, and then went around room to room, holding their automatic weapons to all the tourists' startled heads and demanded all of their money. Since a tourist has no choice but to keep their cash on their person or in the hotel's safe, they cleaned out over fifty travelers each packing a couple of grand US each. Not a bad haul, and the Ritz responded with the most elaborate full time security system we've ever seen. More locked doors than Fort Knox and more razor wire than an inner city used car lot. It's the perfect place to stay if you're into cocooning through Jo-burg, but if you're into seeing the sights such as we are, you may want to pick a backpacker's hotel out in the more sedate suburbs.
Crime in Johannesburg
While we weren't personally touched by crime, the last five years in Jo-burg has seen a wave of criminal activity that has strained the social fabric to the breaking point. This in a society that under apartheid had zero tolerance for crime and (for whites, anyway) was safer than the best countries in Europe. The situation turned so bad so quickly because of the relaxation of a number of laws with the advent of independence. Many factors came together all at once to produce the virtually lawless situation:
Curfew and police monitoring ended on 85% of the population;
South Africa enacted an openness treaty with African countries that supported the ANC during its struggle for independence, allowing free immigration. South Africa now greets all within Africa with open arms, and Africa has responded by sending its poorest and most marginal people. Once there, many find they don't have the training for South Africa's job market and have no recourse but crime in order to survive. Also, organized gangs have taken advantage of the openness treaty and have set up shop here -- Nigerian gangs are particularly notorious and cause much of the trouble here in Jo-burg;
For many South Africans, the authorities were the oppressors so they have no culture of respect for the law. With the advent of independence, many in South Africa took "freedom" to mean "freedom to do whatever you want." Many responded with a "stick it to whitey" attitude, but for most it meant preying on those closest to them -- oftentimes members of their own neighborhood or tribe;
A new and corrupt police force. The ANC had no choice but to dismantle the old apartheid police apparatus, but the newly formed police force has adopted a level of corruption more in tune with the rest of Africa. We understand that if one wished to get off of a drunk driving charge, you need to only hand the officer 50 Rand (that's US$8.33!) along with your driver's license and you're on your way. South African police are easily bribable, and usually for a pittance;
A population that was "soft" in that it had virtually no defenses against crime.
Violent crime is particularly bad here. Much of it stems from the "warrior" mentality that many uneducated people carry out of the bush, and the easy access that South Africans have to guns only exacerbates the problem. Power is all important here, and if violence is a means to achieve power, then it will be used. It's sad, but South Africa led the world this last year in incidents of rape, with a rape occurring once every 26 seconds!
Society in general is hardening itself towards crime. Those who don't want to live with the fear of crime over their heads are leaving, and those who can are surrounding themselves with all sorts of private defenses. Many suburbs are virtual bastions of security, with razor wire, alarms and twenty four hour a day security guards. The security business has become a major employer in South Africa.
This is not to say that you must view everyone in South Africa with fear and distrust. We found that most people, even among the very poor, to be very nice and worthy of trust. After all, it's not the poor people you have to worry about, it's those who want to get richer. Perhaps we were only lucky, but we like to think it was our American instincts on crime that kept us out of trouble. Once South Africans develop similar self-defense mechanisms, things will become better.
Racism in South Africa
Being American, we tend to look for parallels within South Africa of America's great struggle with racism and the aftermath of slavery in general within society. The American ideal is to be color-blind, judging each and every person on his or her merits. A hundred and thirty years after the American Civil War that ended slavery, we're still a country struggling to reach that goal. It's a high ideal, and the countries in southern Africa don't even try to reach it. Social systems are based on tribalism here; what makes the big difference is what tribe you belong to.
There are a lot of roots to it: language, customs, family and business connections. The melting pot is an unknown concept here. Each tribe, while not in a "hot" battle, looks for any edge it can get over its rivals. Tribalism is in itself racist, and the situation gets really loaded when you add the fact that three of the richest tribes here are white: Afrikaners, English and Portuguese. They all got in the bottom floor when the property system was created here, and it's a richness that has and will last centuries.
Many in Africa will exclaim "well, they got a leg up by the colonialists," but that isn't strictly true either. The Portuguese and the Afrikaners have been established in this part of the world much longer than many of the "indigenous" tribes, and the Afrikaners were religious outcasts from Holland, very much in the mold of the American Pilgrims. To these people, there is no "home country" to go back to; South Africa is their motherland and here is where they are going to stay.
So, here we are in a part of the world where people judge your worth and how to treat you based on your tribe, and then make guesses on what tribe you belong to based on skin color, height, nose flatness, etc. We always get mistaken for Afrikaners. We can't tell you how many times we've been approached by people of all tribal affiliations and asked something in Afrikaans.
Despite this tendency for everyone to make judgments based on physical characteristics, most people in Jo-burg seem to be trying to pull together in a very meaningful fashion. Those favored by the apartheid system understand that the large underclass it created must be educated and empowered, otherwise South Africa will slide backward into the quagmire that passes for society in so many other African countries. Many of those oppressed under apartheid understand that they live within a system that requires one to pull his or her own weight, and that education and individual achievement is the road to real achievement.
Together, all people seem to have a genuine willingness to make the current system work. It may not be the American melting pot, but perhaps some sort of African equivalent will rise out of today's spirit of co-operation. Everyone here in South Africa is trying very hard to avoid the disaster that befell its northern neighbor when it made the transition from Rhodesia to Zimbabwe.
The South African Economy
By virtually any measure, South Africa is Africa's richest country: GNP, personal income, standard of living, exports -- you name it. Also, in addition to relatively high incomes, South Africa is also blessed with low costs for food, labor, housing and a variety of consumer goods and raw materials (eg: aluminum and aluminum goods are very cheap compared to America). Interest rates are surprisingly high at 16.5% (which the locals consider low!), so South Africans tend to be less in debt than the average American.
However, the South African economy is under a number of stresses, most of them related to the transition to a fully democratic society. A number of people with money are being driven out by the crime wave engulfing the country, and the majority government has responded with a series of currency export restriction laws designed to try to keep money within South Africa. Of course, this doesn't exactly foster confidence in a country's currency and the markets responded with a 25% devaluation of the South African Rand against the US dollar last year.
Admittably, not all of the Rand's problems stem from the government's actions; by some estimates nearly four million whites have left South Africa since the end of apartheid (based on voter registration) and there's plenty of white collar activity with the aim of turning South African assets into foreign assets or hard currency -- just in case the whole system collapses. But if the government had a softer hand on currency control, more money would flow into South Africa. For all its problems, the Rand is by far the most stable currency in this part of Africa and many, many people would love to be able to set up South African back accounts and have a stash of Rand in case their home economy tanks -- something that tends to happen with amazing regularity in Africa. As it stands right now, it's virtually impossible for a foreigner to set up a bank account here. We did manage to do so, but at time it was so secretive we felt like we were buying drugs or smuggling ivory. And the bank that did accept our account application did so in violation of the law.
However, for every person that we met who wanted to leave the country, we met another who was dying to get in. This is still the land of opportunity, and if you're smart, savvy and tough, you can make your fortune in South Africa. Europeans in particular look at this place as a breath of fresh air when compared to stale, stratified Europe. Sure, you've got to deal with American-style crime and African business practices, but many feel that Africa's day is due and that South Africa is the compass needle to lead the continent towards the future. It's hard to argue with 'em.
Our finds in Jo-burg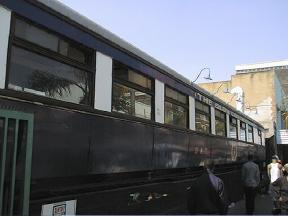 While our stay in Yeoville was a little gritty, but one consolation was the number of very good restaurants in the neighborhood. One struck as especially nice and unique, and gets special mention here: the Slow Coach. An actual passenger car (one of the last hand built ones from the 1950's), they serve wonderful breakfast and lunch food at a reasonable price. Our pick again and again for morning coffee. Check it out at 65 Raleigh St, Yeoville.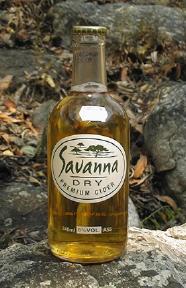 African beer is for the most part light lagers, with little or no taste -- understandable as they are meant to be drunken ice cold during the hot weather that covers this continent. A delightful alternative can be found in Savanna dry cider. Unlike most heavy English ciders, Savanna goes down light and smooth, and one's palette can withstand more than one (many more) if so desired. While not exported outside of southern Africa, you can find out more at www.savanna.co.za and send email to make it available in the USA. America is ready for it.

Africa Time
As you may have noticed, we spent nearly a month in Jo-burg. While we enjoyed our stay here, we really didn't expect to spend so much time in one town. Rather, we experienced a well known phenomena in Africa: everything takes at least twice as long to happen as people say it will. If someone tells you they will have something ready for you tomorrow, count on it in two days. Even in a more advanced country like South Africa. It's so common that the locals have a name for it: Africa time. Africa time is why it took us nearly a month to find and outfit a truck for safari action. We suppose it would be called software time in America.
Surprising aspects of Jo-burg
Being our first foray deep into the southern hemisphere, we knew a few things would appear backwards, upside-down or inside-out to our North American sensibilities. Such as the water going down the drain clockwise, and the sun always appearing in the northern part of the sky. With the British influence in this part of Africa, certain social conventions served to complete the looking glass feelings we have, as the driving on the left hand side of the road and faucets which position the hot water to the right.
Culturally, it was a bit of a surprise to realize that southern Africa is the only place where Germanic culture and language has successfully been transplanted from Europe: Dutch in South Africa and German in Namibia. Everywhere else it failed to take root, even though the Dutch sowed their seeds all across the world. The similarities and differences from the mother cultures constantly intrigue us.
We were told not to expect much in the way of cuisine, but thankfully our tour books are wrong on this account. A wide variety of food are available here in South Africa, with the average palette desirous of spicy food. The locals enjoy a spice called "peri-peri", a portuguese import from Goa, India. Although it looks much like cayenne pepper or paprika, it tastes like neither. Used in many dishes here, the fire it adds is unmistakable.
As Californians we didn't find the city's flora as different as someone from the other forty nine states might, as most of the plants and trees that grow here can and do grow in California. The "oohs and ahhs" for us came when we looked at the birds, snakes and bugs of Africa. The birds here are completely different from those of home, often brilliantly colored with all sorts of new calls and tweets. Even the pigeon is absent, with the only familiar bird the common English sparrow, and that's here only because Cecil Rhodes decided he didn't want to live in a place without the sparrow and brought a dozen of them to Cape Town a hundred years ago.
Our major snake experience was an encounter with a meter and a half long black hooded cobra -- in the city limits! We had made a wrong turn and were doubling back when this cobra decided to cross the road in front of us. We stopped the truck dead in the road while it hissed at us and then slithered away. Betcha critters like that make gardening an interesting experience.
The bugs here are equally interesting. Gigantic beetles, wasps and bees, diminutive preying mantis (.25 to 2 inches max), and dragonflies colored in brilliant reds and oranges. All the bugs here seem to look at us as food sources. This in a city that we didn't expect to be interesting in a naturalist sort-of way. Makes us wonder what the bush will be like.