Pretoria
October 6th - October 8th, 1999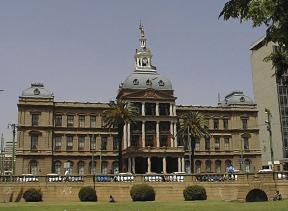 With our Land Rover Spot all outfitted with repairs and camping goods, we set off on a brief drive north to Pretoria, the administrative capitol of South Africa, in order to deal with some visa issues. Our current travel plans have us first visiting the biggest national park in South Africa, Kruger, and then heading north to Zimbabwe, and then west across Botswana and Namibia before turning south and driving along the coast through Cape Town before turning north again. While none of these countries require pre-arranged visas for Americans, we likely will travel through the country of Lesotho and all the tour books say Americans need visas there. Also, we've learned that at the port Richards Bay it's possible to arrange transport for a car on a freighter to Madagascar; if our return trip were to the coast of Mozambique, then we need to get those visas here in Pretoria.
As it turns out, we didn't get any visas here at all. Seems that Lesotho changes its visa policies on a weekly basis and this week Americans can now get their visas at the border. Even finding this out was hell as the Lesotho embassy has recently moved and left no forwarding address or phone number (welcome to Africa!). We finally had to resort to the very excellent Pretoria tourist office where an agent spent over a half an hour phoning contacts until he learned the embassy's new location (phone: 46 7648, address: 391 Anderson St, Menlo Park).
Mozambique was a different experience altogether. While the embassy is very easy to locate, the visa procedures are the worst of the third world. One needs to fill out an application, submit it in person, then go off to a bank across town, deposit the visa processing fee, return to the embassy with the deposit slip, and then finish more paperwork before the office will consider your visa and then issue it up to a week later. We guess we should be thankful we don't have to submit the forms filled in Portuguese. The killer was that any issued visa must be used within one month of its issue, and we don't expect to be traveling in Mozambique for quite some time. Unfortunate, as this will require us to again travel through Pretoria right before our trip to Mozambique. However, this visit to Pretoria was far from wasted as we were able to experience the city's thousands of jacarandas in bloom, painting the city a spectacular violet.
Paul Kruger's Town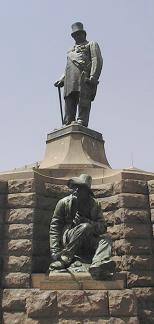 With no pressing visa issues, we had plenty of time for touristing and quickly found Pretoria to contain numerous Afrikaner monuments and memorials. While the current South African Republic is not the same state as the old Boer Zuid-Afrikaansche Republiek (the latter having been defeated by the British), much of the cultural history and heritage of the old apartheid regime is taken from those old Boer days. The first president of that ZAR (if you will, South Africa's George Washington) was Paul Kruger and his image is omni-present in Pretoria today. Most striking is the statue at the center of Church Square; once banned by the British, it shows Kruger as he appeared on his inauguration day in 1883. With quaint colonial architecture all around, the square is a favorite retreat for the office crowd.
Five years after black independence and majority rule, all of the numerous Afrikaner and apartheid monuments still remain in Pretoria. Seems that the current ruling class is content with their remaining. It makes sense, because whether one likes it or not history is history, and the people and events depicted in stone and bronze formed much of the social fabric that is South Africa. In time the ruling majority will be able to depict their heroes, both old and new, and have them rest beside those that currently stand in the squares and parks.
Pretoria was our first taste of a South African city where Afrikaans is the preferred language. As we get mistaken for Afrikaners all the time, this resulted in many replies of "Could you please try that in English?" We even saw a very pointed use of Afrikaans with a black waitress, which she took with great offense. Very good thing that most everyone here can speak English, otherwise there would be a lot more fighting.

Paul Kruger's House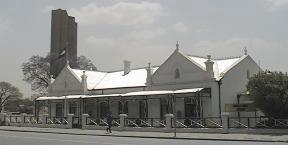 Still standing in Pretoria is the first president's house itself. An example of the modest lifestyle the Boer's allowed themselves, it's filled with original furniture and trappings of Kruger's life. Among our favorites was the first telephone in South Africa, the old rail car Kruger used to tour the country and handmade welded cannons used against the British in the Boer wars. Below left is the living room of Kruger's house and to the right is a photograph of the old man himself.
Melrose House
Continuing with our day of touring Pretoria, we visited the Melrose house. A mansion built in 1886, it was home for Lords Roberts and Kitchener (the British commanders) during the Boer Wars, and is where the Peace of Vereeniging treaty was signed in 1902, ending that war and ushering in the era of British rule. Bombed during the 1980's by an ANC radical, it's been fully restored and is a wonderful showcase of the era.
Above left is the front of Melrose house, an odd blend of Cape Dutch and English Victorian styles. To the right is the table at which the Peace of Vereeniging was signed.
In the house's conservatory is a presentation of the Boer war from the Afrikaner perspective. This war saw the world's first use of concentration camps, an invention of Lord Kitchener who practiced a scorched earth policy against the Boers. 26,000 people, mostly women and children, had died in these camps. The notoriety of the camps was brought home to Europe by Emily Hobhouse, an English woman who worked in the camps. Public sentiment in Britain and Europe put much pressure on the British to end the war; many political articles and cartoons are presented (above right). Our favorite was the cartoon of Kitchener as a giant toad perched on the thousands of dead from his actions.
Our Find in Pretoria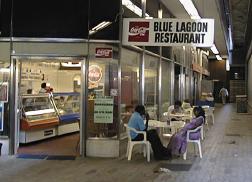 Always on the prowl for good Indian food, we stumbled across a little curry house not terribly far from Church Square. The Blue Lagoon presents a simple menu of outstanding tasting curries and such -- perfect for lunch. You'll find it a 267 Church St, (012) 321-5702.