Todtmoos
May 24th - May 27th, 1999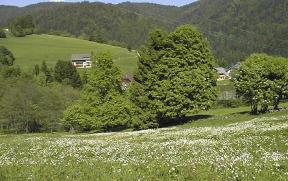 Spring has been well along in every place we've visited so far, but Todtmoos was the first where spring had just freshly arrived. The highest town in the Black Forest, winter lingers a bit longer and we caught spring in its first blossom. Fortune smiled twice on us, as we were welcome to be guests of a San Francisco friend, Hanna, and her parents Ludwig and Karen. Hanna was born and grew up in Todtmoos, and every year or so she returns to her German home -- we were lucky to catch her during this year's visit.
What does "Todtmoos" mean?
Life must have been hard here in the Dark Ages, as gallows humor pervades most of the place names in the Black Forest. "Todtmoos" in German means "dead moss", but it was far from the worst. "Schechtnau", a small town nearby, translates to "bad meadow", and its neighboring town of "Todtnau" means "dead meadow", but our favorite was "Notschrei" which translates as "desperate scream for help." However, the Black Forest itself doesn't follow the trend. It's so called because the trees are so dense in places that color does indeed fade and the forest appears black.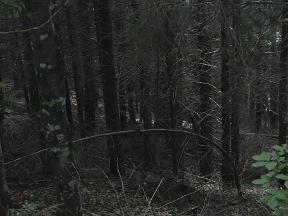 The Black Forest on a sunny day.
Germans have this cultural affinity for hiking, or "wanderung" as they call it. In fact, they've even codified it in their property laws. A landowner must allow "pass-through" access for hikers to cross their land. So, in Germany, you never have your hike in the forest interrupted by a barbed-wire fence or a no trespassing sign. And hike we did!
The top two pictures shows our initial hike in the Black Forest as we traversed several farmers' fields as we wound our way through the woods. Bottom left shows Jim testing out the electrified cattle fence in one such field, and bottom right Hanna re-enacts, in the exact same spot, how she experienced her very first cigarette. She was fourteen at the time.
Saint Blais
In order to let our feet cool down from the "little" hike of the previous day, Hanna took us to a neighboring town called Blaisen that's home to the second largest domed church in Europe, just behind the Vatican. The church of St. Blais was originally a monastery and now is a Jesuit school -- in fact, Hanna's two brothers both went there.
Clockwise: the Dome of Saint Blais; the sparkling white interior (quite unusual); Kathy reminding Hanna how St. Blais achieved his fame as protector of the throat by reenacting the blessing; and finally a statue of St. Blais himself blessing a sick child.
Blaisen is also home to several sanitoriums for various disorders, and on the church grounds there is a rather unusual carving depicting what the Germans call the "Kurshatten." Literally it means "shadow of the cure" and refers to the extra-martial relationships that many patients engage in while recovering in this land far away from their loved ones. Somebody took this statue pretty seriously, as the woman had been splashed with red paint! On the right is an old sanitorium up the hill from St. Blais that had been converted into a private residence.
Heimatmuseum Todtmoos
On the day we were to leave late on a night train to Berlin, Ludwig invited us to a private tour of the local Todtmoos museum on its "Rühetage", the day the museum is closed. Dr. Kühner contributes much of his spare time and efforts to the town's collection housed in a 17th century Black Forest house that did a long stint as nunnery. Originally built without nails, the old farmhouse serves as the cultural memory of the mountain community here. Hanns (on the right), who normally keeps the keys and claims he can give a five hour long tour on the building construction alone, was happy to let us in and explore Todtmoos' past.
Our tour was conducted mostly in German, with Hanna serving as translator. Inside we got a nice cross-section of Todtmoos life from the start of the town back in the 13th century as a religious community to the present. Donations from the townspeople and businesses make up most of the collection, including a lot of photos. The top left shows some of the founders of the Todtmoos tuberculosis sanitorium back in 1901. There were many artifacts from the days of the nunnery, including this depiction of the crucifixion of Jesus. Bottom left shows just a sample of all the tools and equipment stored in the building's ample attic: here are the tools one would use to make sauerkraut a hundred years ago. And finally, we have a pair of typical yesteryear Todtmoos grade-schoolers and how they would study.
What started it all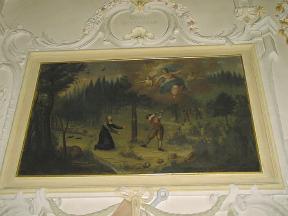 To this day, Todtmoos is a center for religious study and worship. Much of this is due to the fact that Todtmoos was founded by a pilgrim Dieterich von Rickenback in 1255. This painting hanging in the church "Ünsere Lieber Frau", depicts the divine revelation that told Dieterich to quit wandering and start chopping. Personally, we think his feet got sore. At any rate, that simple church served as the seed for the mountain community. Catholic, Protestant and Buddhist pilgrims come annually to Todtmoos to this day and are called "Wallfahrts" in the local dialect.
That simple church that started it all is gone now and on its site is very ornate structure dating from the 18th century.
Thanks again!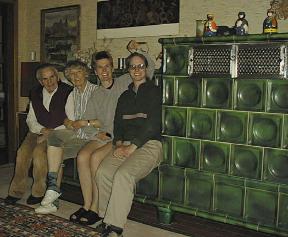 We would like to thank Ludwig, Karen and Hanna for taking us into their home and showing us what "gemütlichkeit" really means. The conversations of German life and culture, the home cooked meals, and breakfasts overlooking the Todtmoos valley were priceless. Our break from big city touring was welcome and greatly appreciated.