Madrid
June 26th - June 27th, 1999
After talking with locals in Barcelona, we decided that we might enjoy the northwest corner of Spain called Galicia. All trains there went through Madrid, so we decided to pause in the hot center of Spain and spend a few days exploring. We arrived in Madrid at mid-afternoon, greeted by a simply torrid sun and (amazingly enough) quiet, empty streets. We thought "Hurray! A quiet city!" and proceeded to find a centrally located room in the theater district. We looked forward to a nice night's sleep, but the joke was on us. Turns out our train arrived during the big football match (soccer for you Americans) and everyone was inside glued to their televisions. To make matters worse, this evening also was the night of the gay pride parade, and guess which part of town it's held in? Yup, the theater district. So, once the sun's heat broke and the football match was over (of course, Madrid won), the streets simply ripped open and filled with people hell-bent on having a good time right underneath our balcony. We thought they knew how to party in Barcelona, but they were rank amateurs compared to what we saw in Madrid. The screaming didn't stop until well after ten in the morning and there were lost souls wandering the streets all day Sunday.
| | |
| --- | --- |
| | |
Above left: while Madrid's gay pride parade is smaller than San Francisco's, they make up for it with gusto. The crowd's favorite seemed to be the float with the buff dude doing push-ups. The photo to the right shows a packed Sol center not two blocks from where we were staying.
We should have suspected that Madrid was going to be crazy, with the full moon and all. Here it is hanging over the striking central post office in the above top photo. On the bottom shows what one of the amazing water sculptures looks like when turned off: it's a seventy meter long map of Columbus' first voyage to the new world.
Museums
We had time to fit in two museums on our Sunday tourist jaunts: the Museo del Prado which houses one half of the Hapsburg's art holdings, and the Museo Nacional Centro de Arte Reina Sofia. While the locals rave about the Prado, we thought it was a big yawn. Perhaps we've just seen too much of this kind of art in our two months in Europe, but we liked the modern collection offered by the Reina Sofia. It was very satisfying to see Picasso's Guernica in person, and the attendant Míros, Dalís, Kadinskys, Magrittes and Gonzálezes all in one room made it the place to linger. Sorry we don't have any photos, but they were exceptionally strict about a no camera policy.
Travel Note
On our train ride to Madrid, we noticed a particularly cool looking medieval town clustered around a Gothic cathedral and castle. Named Sigüenza, it appeared a fascinating place to visit. Now, we didn't stop and it is set on the hot central plains of Spain, but the tour books do talk about it in good terms. If we were to vacation in Spain in the cooler off season, we would try to spend a little time there.
We were very centrally located in Madrid, and one of the delights not half a block from our room was a brewpub, the first (and, turns out, the only) we saw in Spain. It's called Naturbier and advertises two brews that meet the German Reinheitsgebot of 1516 -- a set of German laws governing how beer should be made. On the shady side of the street, we heartily recommend it if you need to cool down a hot Madrid day.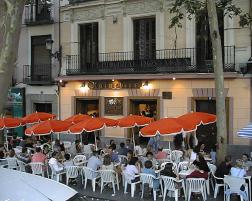 Naturbier

Plaza Santa Ana, 9

28012 Madrid

Tel: 91 429 39 18
Toledo
June 28th - June 30th, 1999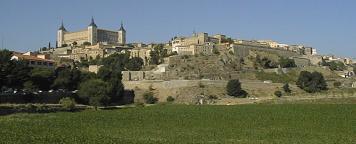 After our brief stay in Madrid, we took a local train to Toledo, the former capitol of Spain. Now a UNESCO World heritage site, Toledo is an amazingly well preserved medieval town rich in history. We found it fascinating to wander around the labyrinth of streets and imagine ourselves back five hundred years. Or at least we tried; unfortunately, the Spanish insist on squeezing their cars and motorscooters into this city, even though most of the streets are barely two meters wide. Dodging these machines diminished what could have been a truly magical experience. As it was, a few days was insufficient to thoroughly explore Toledo, but with the temperature hovering a little over 40° C, a few days baking was enough for us.
| | |
| --- | --- |
| | |
The center of life in Toledo remains to this day the Cathedral at the center of town. Taking over 250 years to build, it was finished in 1498 and holds the last remaining Visigoth masses in Mozarabic. Every year during the annual Corpus Christi celebration they adorn the church with the centuries old tapestries stored on display in the church and carry the giant gold monstrance (above, right) in a precession through town. We hear that the best time to hit Toledo is a few weeks before Corpus Christi during their Carneval. The locals claim New Orleans' Mardi Gras pales in comparison.
Apparently, the painter El Greco spent most of his life in Toledo, and a few of his works are still in their original environs. Here's one we found in the Cistercian Convent Sonto Domingo dating from 1579. Most of his works got dragged off to the Prado in Madrid.
Another tourist highlight is the Alcazar, or fortress. The Alcazar has seen action as recently as sixty years ago during the Spanish Civil War. One of Franco's generals held out against Republican attackers for almost two months, despite a heavy bombardment that reduced most of the above ground structures to rubble. Their secret was extensive underground chambers and cisterns that allowed them to store food, water and ammo long enough to wait for reinforcements. Holding Toledo was instrumental to Franco's victory, and much of the Alcazar is devoted to glorifying that effort.
Above, left: the Alcazar from below. The middle photo shows how the facist defenders pressed Harly Davidson motorcycles into service as grinders; and the left photo shows a sample of the medieval portion of the military museum.
It's interesting to learn that twenty five years after Franco's death the Spanish now refer to his rein as the "national tragedy." Small wonder, as he and Salizar in Portugal were the sole Facist rulers to emerge from the wreckage of World War II. Spain is only now truly moving past the years of the dictatorship. In fact, once Franco was out of the picture, the Spanish responded with a baby boom! Much of the dynamic and drive one sees in Spain today come from all those young people now coming of age.
Our find in Toledo

Among other things, Toledo is known as a city of restaurants. Budget eating is mediocre at best, but if you're willing to splurge one can indeed find fine dining. We tried an unadvertised, new restaurant around the corner from where we stayed and were quite pleased. The Casón de los López D Toledo is housed near Zocodover square in a 16th century building adorned with a crucified Jesus and to say the least it was excellent. Also, it cost a third of what a similar meal would have in San Francisco. To top it off, one of the dishes introduced us to something we didn't think existed: spicy parsley. Really spicy. Just like parsley isn't supposed to taste like.
Casón de los López D Toledo

Silleria, 3

45001 Toledo

Tel: 925 25 47 74

Fax: 925 25 7282

email: casalope@readysoft.es