Cadíz
July 20th - July 21st, 1999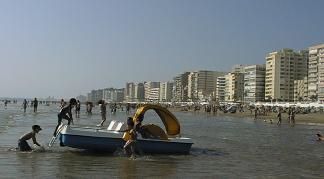 After nearly three months on the road, we finally set out to find a beach paradise to rest at for a while. Hearing good things about Cadíz, we set out south from Sevilla to check it out. What we found is a packed Spanish playground full of $100/night high rise hotels and very mediocre food and entertainment. Even staying in the old medieval section of Cadíz didn't help much. The beaches are very nice there, and we did enjoy the limited time we spent on them. We're sure we would have enjoyed them even more if we had come during the off season.
Fortunately for us, a short train ride away is the town of Jerez, one of the anchors of the sherry triangle. This called for a field trip, and we chose the González Byass (home of Tio Pepe) winery for a visit and taste test. The term "sherry" is an Anglicization of Jerez, and González Byass is the largest sherry winery of them all. The tour itself was interesting, in that there are a number of interesting sights on the winery grounds. For example: González Byass has the world's largest weather vane. Check it out in the picture below.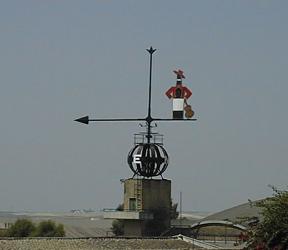 Also on the winery grounds is a steel shed designed in 1862 by Eiffel of Paris fame. And the winery has an odd custom of making sure the warehouse mice have easy access to the sherry. Every morning the furry little alcoholics scurry up the ladder and sip their fill of the good stuff.
González Byass ages all of its sherry in oak barrels (unlike some), so the place is simply littered with them. Many are put to good use as places for famous visitors to sign their names. Hundreds of barrels have been signed over the last hundred-odd years; here's a few of famous Americans we came across.
At the tasting, we liked the red Alfonso Oloroso Dulce. Unlike the cream sherries we're used to, it must be served cold.