Brussels
May 14th - May 16th, 1999
At the crossroads of Europe, Brussels immediately strikes one as a different kind of European city, although it's hard to put your fingers on exactly why. Older than Amsterdam, and not quite as old as Paris, Brussels perhaps better represents the face of the new Europe than either. Maybe it's because it's the headquarters of the new European Union and a major nerve center for both NATO and the U.N. Whatever it may be, in the face of Brussels one can see the mixture of old and new that is Europe at the end of the 20th century.
To top it off, we actually know someone who lives here. Shannon Daily, the former controller of Abacus Concepts, has begun a new adventure here and we were pleased to be her first guests from the USA. She, and her boyfriend Bert, offered us a time we will never forget.
The Grand Market
Kathy and I have actually been to Brussels before -- back in 1986 during our motorcycle trip across Europe. Back then we did a "drive by"; that is, we didn't bother to get a place to stay, but rather took the motorcycle around town to various points of interest, gawked at our chosen tourist sights and then took off. While efficient, it limited us as we had to leave our packs on the motorcycle and having them out of sight left us feeling uncomfortable. Thus, we ended up missing one of the most striking markets in Europe that's in stumbling distance of the main train station: Brussels' Grand Market.
Clockwise: The Grand Market, Jim and Bert telling Shannon jokes,and one of the exquisite buildings opposite the palace.
"But, Kathy and Jim?" you might ask. "What tourist sight was so important to see that you skipped oh so moving and grand a market?" Well, within about six twisted Brussels blocks of the Grand Market is the biggest tourist sight in Brussels: the Mannekin Pis.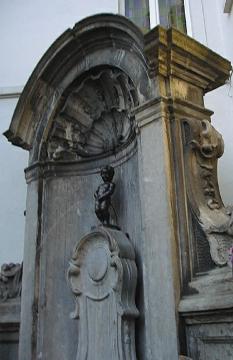 Actually it's a rather fitting monument not just for Brussels but for Europe in general, if you ask us.
Saturday found us in the midst of a whirlwind tour of Brussels with Bert as our chaffeur and guide. The morning begun with a tour of the tallest of the older buildings in Brussels and the fifth largest church in the world, the National Basilica of Sacré Coeur.
Clockwise: The Basilica, Kathy and Jim,and at the top of the 80 meters of stairs
On the left is the view from the top of the Basilica. That funny shaped thing in the photo is a big model of an iron molecule called "Atomium" that was build for the 1958 World's Fair. On the right is a statue of Father Damian; he's up for sainthood because he spent his life helping lepers.
No sunny day would be complete without a brewery tour (Grimberger here) and a walk in a flower garden.
| | |
| --- | --- |
| | |
| | |
Feeling slightly burnt after our tourist marathon of the day before, we opted for a visit to the Brussels' antique market. People bring all sorts of junk with the hope to sell it, and if they can't and they don't want to keep it, they merely leave it in the square and the Brussels' sanitation department come and take it all away. Bert's friends, Ives and Irwin, came because they were looking for old house parts. Then we took a nice stroll in the farmland surrounding Bert's village and finished off with a night of snooker, played on a 4 meter by 2 meter billard table. And, yes, Kathy did make that shot with the nine foot long cue and bridge.
Our thanks again to Shannon and Bert. They showed us a side of Brussels we never would have seen, and the use of Shannon's Brussels apartment made us like residents. Their efforts made a foreign city feel like home.
Warning!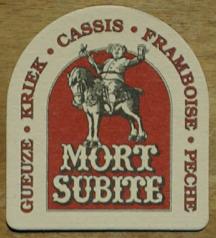 On our first night in Brussels Bert took us to a brewery pub of a very aptly named local brew: Mort Subite. Translated: Immediate Death. While the bar itself was beautiful, most people were ordering the Duvaal. I (Jim) wish I had been that smart.