Barcelona
June 18th - June 25th, 1999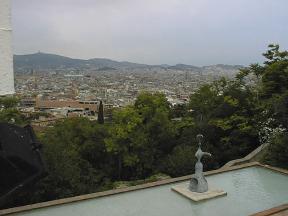 Enduring our third overnight train trip -- a Spanish train where they don't let the men sleep with the women -- we arrived to a Barcelona firmly in the grip of both a heat wave and a vicious tourist crunch. Unable to find a room either by phone or through the tourist office, we took the subway to the waterfront and starting marching through Ciutat Vella (the oldest Barrio) in search of a place to sleep. We managed to find a second floor flop on the edge of the red light district and overlooking La Ramblas, the main drag through the old part of town. The price was right and our balcony offered one of the best people watching perches we've had; however, we did become fast friends with our ear plugs. It was hard to believe that anyplace could be noiser than Italy, and yet there it was, right out our window.
La Ramblas
Cruising is a tradition all around the entire Mediterranean coast, and Barcelona is no exception. The "strip" here is La Ramblas, a wide pedestrian walkway sandwiched inbetween two two-lane roads. The action never stops on La Ramblas. Between the sidewalk cafes and bars, the street artists, the merchant kiosks, and young-uns out on the town, the street never gets a rest. Neither did our ears. Pictured below left is an afternoon shot of a six person Cataluña (the providence Barcelona is in) musical group playing as advertisement of an upcoming folk music festival, and below left is a shot at three in the morning of the hardy street artists and penny merchants hawking their wares as the tipsy tourists walk by and the cars and scooters scream through the night.
| | |
| --- | --- |
| | |
To top it all off, it was our dubious fortune to be present for Catalan's biggest holiday, the festival of St. Joan. He's a saint and favorite son of Catalan, and the locals celebrate by walking around the night before, getting really drunk and then throwing firecrackers and M80-like thundersticks at each other (we're not kidding!). All night long. The pigeons were so scared off that it took days before their numbers were back up to full strength.
Gaudì's Sagrada Familia
It's a rare place were a single artist dominates a large art scene. Barcelona is such a place and Gaudì is the guy. It was he that put Barcelona on the map for most of the world. More than sixty years after his death, his shadow looms over every corner of this city. Perhaps one reason is that his greatest work is still in progress. The cathedral, Sagrada Familia (Sacred Family), was started by Gaudì in the 1880s and work is still ongoing. Since Gaudì's studio was destroyed during the civil war that began a mere three years after his death, the cathedral's design has been scraped together through exhibits left behind in foreign museums and forgotten notes Gaudì lent to a local exhibition house. Funded entirely by donations, work appears to have accelerated a bit in recent years and holds promise that the cathedral may actually get finished. It might take another hundred years, but it just could happen.
Clockwise, from top left: the oldest (and trippiest) towers forming one face of Sagrada Familia; a shot looking upward at some recently completed support columns; a crucified cubist Jesus fronted by a faceless person holding a Turin-like shroud; and finally some of the grape clusters waiting to be installed on the cathedral's towers.
La Pedrera
Considered to be Gaudì's most refined works, the apartment building La Pedrera (trans: Stone Quarry). Using motifs borrowed from a Wagner opera, La Pedrera lifts itself up to the sky in almost an organic fashion. Since most of the building is devoted to private apartments, public access is allowed only in the ground level atrium, the attic and the roof. Gaudì built most of his buildings with roofs one can walk on, and La Pedrera's undulating top made for a fascinating platform to take in the edifice and the surrounding Barcelona neighborhood.
Clockwise from top left: La Pedrera's front entrance and facade; the Wagnerian characters upon which the building is based; a section of the roof with ventilation chimney and access stairway; and an inverted model used by Gaudì to guage necessary structural strength for a section of La Pedrera's roof.
Other Gaudì
As we said before, Barcelona is silly with Gaudì buildings. Below, clockwise from top left we have Gaudì's contribution to a block of Barcelona called Disconcordia because each building on it is both significant in the Modernist movement and built in a completely different style from it's neighbors; the gift shop in the Gaudì Park; the interior of the center chamber of Parc Güell, one of Gaudì's early buildings; and finally Gaudì's death mask -- found in his former residence and now the Gaudì museum.
One of the mythic stories of Catalan is that of St. Jordi (St. George), the guy who in legend slew the dragon. Dragons and saintly knights adorn just about every other building -- so often that the imagery loses its impact. A notable exception sits on the front of one of the buildings that make up the Disconcordia row. On the left of the doorway is St. Jordi doing nasty things to a dragon, but on the right sits a sculpture depicting a different way of handling a dragon. Reflects a lot about Spanish culture on many levels, if you catch our drift.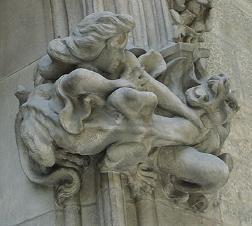 Fundació Miró
Gaudì isn't the only famous artist to capture Barcelona's and the world's attention; Miró hails from these parts and in a section of the Olympic village sits a foundation dedicated to his work. All the phases of Miró's creativity are presented here, but unfortunately his best pieces lie in the hands of private collectors or in other museums. However, the museum is quite amusing in its own right, and attempts to showcase current artists to whom Miró fans might take a liking to.
Two pictures need explaining here: outside is a platform littered with silly little pieces Miró did that the public can manhandle to their heart's content. On the bottom left Jim is doing just that. On the bottom right is a museum opening day present from Caulder, a close friend of Miró. It's a pure mercury metal fountain dedicated to the mining town of Almedan topped off with a Caulder mobile that kicks and whirls around as the mercury flows down a slide.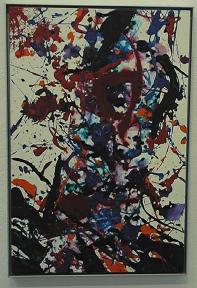 Finally, here's one for Kathy's sister Katherine. It's a piece done by Sam Francis, a close friend of Katherine's when she lived in Inverness, California. We found it in the featured artists room of Fundació Miró.
Odds and Ends
Being newcomers to pure Spanish culture, we found a few things we saw unusual and amusing. Our favorites include on the left Los Curacoles, a restaurant started in 1835 that looks small at first glance but once inside takes up three complete buildings. It features an exterior wood-fired, chicken griller that throws out a tremendous amount of heat (and greasy smoke!) once they crank it up. On the right is Barcelona's oldest bar, Bar Admirall. Founded in 1860 it has a floor that undulates more than a Gaudì roof and features a simply wicked absinthe drink guaranteed to slow one down on tomorrow's tourist pursuits.
Language
Living in California one gets bombarded with a lot of Spanish in daily life. We were pleased to learn that both of us had, through osmosis, picked up a working tourist vocabulary and were able to manage the basics pretty easily. Of course, it turns out that Spanish is the second language of Barcelona, and that everyone prefers to speak Catalan. It's a language that, to our American ears, has a deep French influence. All know Castillian Spanish, but they are proudly regionalistic and we get the impression they thumb their noses down at Spanish speakers. We were surprised at the language regionalism; we shouldn't have been, as every other large European country has similiar language differences, but we always thought that the Spanish speak Spanish and that's that.
Friends we met
Spending a week in Barcelona allowed us to make a few friends among the tourist horde. In particular, we shared several evenings with a crazy couple from Belfast, Catherine and Phil. Quite the characters (but then you would have to be to live in Belfast), they had rented out an apartment in downtown Barcelona for two weeks of playing. You can see them below left photo. In the center photo we have "Två intet ont anande svenskor, en galen brit, en amerikansk fotograf och en irländsk pub i hjärtat av Barcelona - Two unsuspecting Swedes, one crazy Brit, one American photografer and an Irish pub in the heart of Barcelona"-- Thanks Karin (center) for the Swenglish caption. Finally, here's a very orange sunrise Phil and Jim enjoyed after all nighter.
A new one on us
We generally don't take pictures of those on the down and out, but one behavior unique to Barcelona begged for it. While it's currently boom times in Spain, they have a sizable and persistent unemployment problem. For the average tourist, Barcelona is a pretty safe place, but living on the street is a different matter. Lacking sufficient missions and homeless shelters, the street people have fashioned another solution. Many ATMs in Europe have their own little enclosing lobby which requires a bank card of some sort in order to gain entry. But the card readers on the door make only a cursory check on a card swiped through it, so if one has a bank card, even an expired one, you can gain entry to these lobbies. So the homeless camp out there. The lesson here is that if you rely on ATMs for cash, make sure you do it before nightfall as after sunset the doorway will likely be blocked by several slumbering Spainards.