Fes
September 1st, 1999
A little over a month ago we first visited the city Fes. Our visit was short enough as it was, but Jim's lung infection cut our quality time even further. While we really hadn't intended to visit Fes again, we found that it was difficult for us to travel directly from Meknes to our next destination Chefchaouen. However, transportation to Chefchaouen is easily obtainable from Fes, and Fes is only an hour's train ride away from Meknes. Since we didn't quite see all we wanted to last time we were there, and since we have the freedom to, we decided to take the Fes option and spend one more evening in that city. Visiting a city a second time can be a joy, as much of the initial awkwardness of getting oriented is now gone.
Dar Batha Museum
The former home of Sultan Hassan I and his playboy son Moulay Abd el-Aziz, the rulers of Morocco when the French came in and seized control, is now a museum of Moroccan crafts and handiwork. Half of the former palace is now open and dedicated to the museum while restoration efforts are underway in the other half that will be dedicated to a library. Much in the museum was nothing new to us, although we found the incense burner from a 19th century mosque (photo on right) to be cool.
One is guided through the Dar Batha museum, and ours -- after looking all around and making sure the curator wasn't to be found -- pulled open a back door and took us through a part of the museum not yet open to the public. There inside we found the really old stuff: top left, a partially complete display of ancient Moroccan tile patterns, some dating back over a thousand years; top right, a set of timbers, carved with Arabic, from a 9th century mosque; and bottom the tombstone from a 14th century sultan's grave.
Taking it all in
The hills around the Fes medina offer an overall perspective that we really wanted to take in on our previous visit. We weren't going to miss it this time, and just before sunset we set out for the Merinid tombs. Perched on a hill opposite the medina, while one can't enter the tombs the surrounding gardens offer a wonderful place to take in the medina in the twilight.

Below is a meatball panorama pieced together from several photos. It shows the medina in full, all 9000 streets, 800 mosques and 250,000 people strong. Click on the photo to get a more detailed image (about 100K in size).

While we were sitting there admiring the medina, three young girls coyly sat next to us and half-pretended not to be interested in us. Their giggling gave them away and we attempted to chat with them. While we're sure one understood some French, they were shy and only talked back in Arabic. We showed them our digital camera and how it worked by taking their picture. One (on the right) responded by running into the gardens and coming back with a rose, which she presented to Kathy. We gave them our card with this web site address, and hope that our three new friends have access to the internet so they can view their picture again.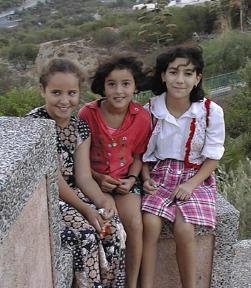 Good Pizza
The last time we were in Fes we were still new to Morocco and eager to try the local food. A month with dysentery has beaten this desire out of us and we're now open to sampling other kinds of restaurants. Lucky us, as in Fes' Ville Nouvelle is one of the best French style pizza restaurants we've seen in quite a while. Chez Vittoria on Rue Brahim just west of Boulevard Mohammed V served us a simply excellent lunch. It's in all the tour books and gets a double thumbs up from us -- Jim and Kathy say check it out.