Essaouira
August 3rd - August 12th, 1999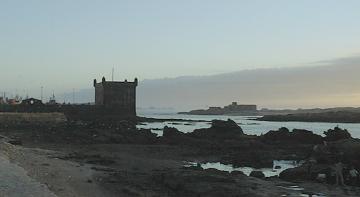 It took the longest bus ride so far this trip (8.5 hours) to travel down the coast from Casablanca to reach the little seaside town of Essaouira (ess-ah-oh-irr-ah). Only when the bus neared our destination did the searing heat begin to break and fog creep over the coastal hills. Essaouira has a reputation for its moderate climate and excellent wind-surfing, as well as being one of those places where those who don't fit in find refuge in Morocco. Not us, though; we're here for the beaches.
Unfortunately, so it seems everyone else was. Essaouira was besieged by thousands of sun-seeking Europeans, and our long bus ride arriving late didn't help. Every single hotel was full -- all of 'em. Of course, the locals know an opportunity when they see one and are more than willing to rent out rooms in their homes -- for a price. So, our first evening in Essaouira was spent living in a traditional Moroccan bachelor pad (oh, boy!). Needless to say, as soon as we found a room the next morning, we were out of there.
Little known before the 1960's, Essaouira gained fame (notoriety?) when a number of rock stars found it as a refuge from the oppressive heat and Moroccan police. Cat Stevens converted to Islam in Essaouira, and Jimi Hendrix tried to buy the neighboring town of Diabat so he could turn it into some sort of paradise for heads. Along the beach stroll towards Diabat sits the ruins of the fort Bordj El Berod, the inspiration for Hendix's hit "Castles Made of Sand." Seen in the photos below, we liked that part of the beach best as the sand was cleaner and much less crowded. The only hassles were the camel taxis always hitting us up for rides.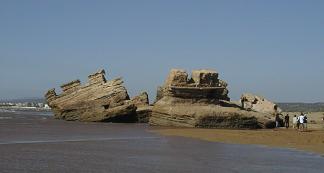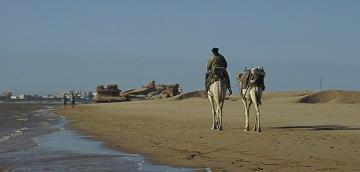 The beaches here are "ok", with a lot of trash and unidentifiable murky haze on the section of beach near town. It was so pronounced that we looked for a sewer pipe, but found none. The same wind that makes the beaches a heaven for wind surfers diminished the pleasure of lounging around, but the beaches were still pleasurable and a welcome relief from the hot Moroccan interior.
Essaouira is a very active port city and shipyard, with many fishing vessels berthed here and under construction. A sunset walk through the marina gave us a full sensory barrage as the fishermen lay their catch out on rows of tables for shoppers to inspect and buy. No sissy ice here, no sirreee. This portion of the Atlantic looks pretty productive, as they were bringing up all sorts of odd catches including octopus, shark, sting rays and eels among the more pedestrian fishes.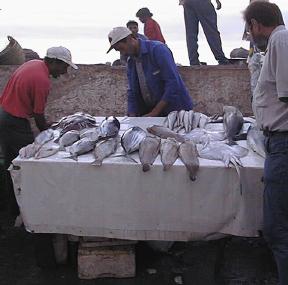 To leave our hotel, we got to traverse a gauntlet of full on Moroccan tourist shops, each selling the same identical junk. The craftsmanship in general was pretty poor, and we soon gave up on shopping all together. Yet, every morning, we got to run the gauntlet and hear the cries of "Ali Baba, Ali Baba, come into my shop."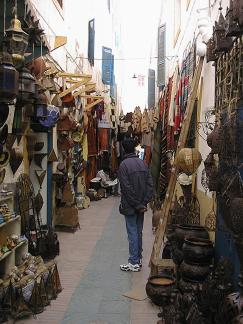 The grand European eclipse occurred while we were in Essaouira. Unfortunately, the moon only covered 40% of the sun in Morocco, but even that produced a distinct chill and eery light. The Mosques were chanting on a frantic schedule, and most of the shops were closed that day -- even more than on a holiday. Seems eclipses are taken seriously here, with superstitions rooted in ancient fears of the demise of the sun.
Health Note
Part of the reason we came to Essaouira was to rest up and try to get healthy. Jim did a good job of getting over the flu and getting his digestive problems under control. Kathy had managed to avoid the worst of Jim's illnesses until mid-way through our time in Essaouira when both the flu and the dysentery hit her simultaneously with full force. She was laid flat on her back for three days straight -- very unusual for a robust person like herself. Fortunately, she recovered enough to realize she was now mostly sick of Essaouira and ready to travel again.